Monday Night Team Trivia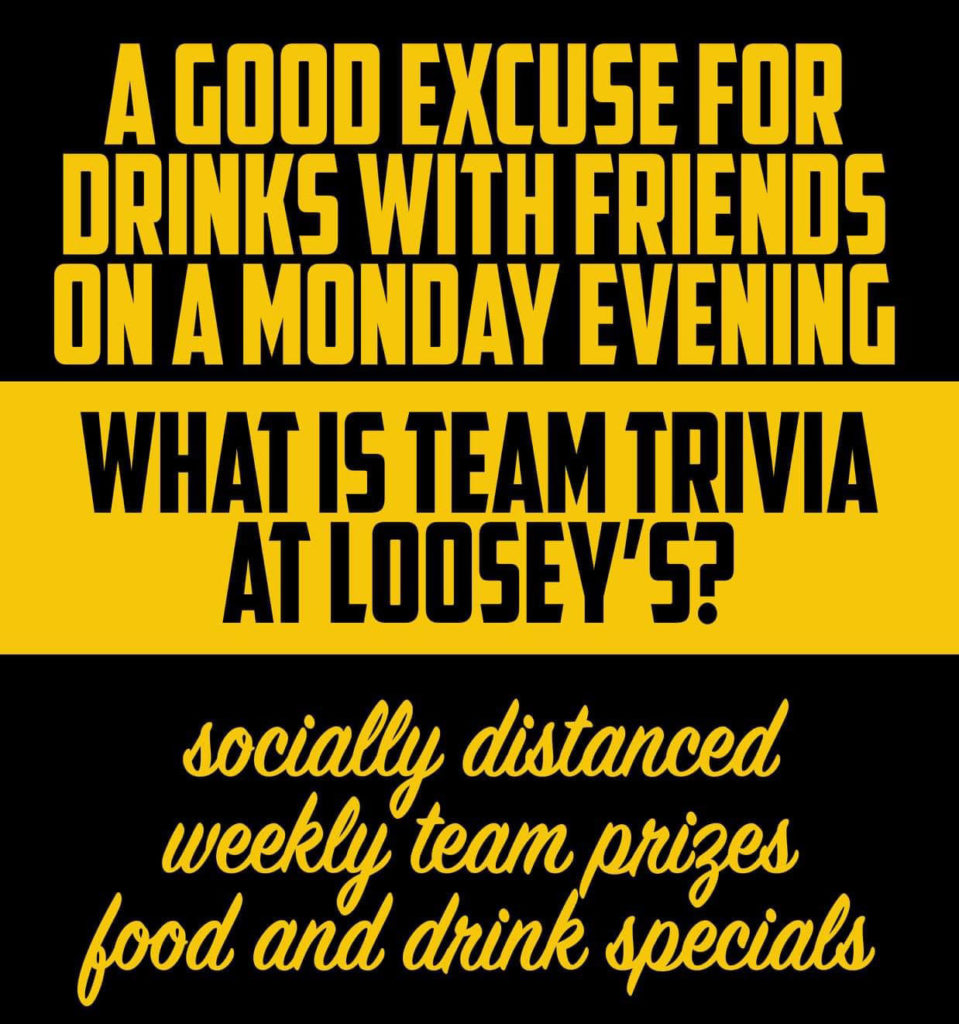 Below is the Score Table for Summer Trivia Season which runs from May 3, 2021 to July 05, 2021
| Team Name | Total Score |
| --- | --- |
| The Vaccines | 1110 |
| Wiskeypedia | 1018 |
| 2nd Street Degenerates | 990 |
| TVP | 970 |
| Maybe Next Week | 952 |
| Quizard People | 940 |
| ACAB for Cuties | 810 |
| Geo Trio | 772 |
| Undergrad Friends | 742 |
| Shenanigans | 400 |
| | Updated June 12, 2021 |
Trivia at Loosey's is back on Monday nights!

Two rounds of 10 questions each and music related bonus points for each question with categories covering current events, geography, history, sports, music, general knowledge and useless factoids

1st, 2nd and 3rd place prizes.

Socially distanced with plenty of outdoor seating, come grab a table or two and show all your friends and a handful of strangers how smart you are.

Game starts at 7:30.
We have also now started a 10 week long Trivia Season, which we will do 4 times a year (winter season, spring season, summer season, fall season).

Regular Trivia rules apply, and weekly prizes are still up for grabs, but ALSO the team that has accumulated the most points at the end of the season will win a bonus $100 in Looseys bucks.
Thursday Night Open Mic
Weekly Open Mic night at Loosey's hosted by Kyle Keller.

We'll be set up outside on the patio of Loosey's every Thursday evening (weather obviously permitting).

If you have your own microphone, we encourage you to bring it, but we will have a rotation of multiple mics so each performer will get their own freshly sanitized microphone. All you need is your instrument and tuner.

Sign ups at 6, music starts at 7.